I just opened THE single most awesome piece of mail I've ever received.
Let me start up front by telling you what I think it is—I think it's the start of an ARG, "alternate reality game." I have no idea who's running the game or how they got my name and address, but it's somebody who knows me well enough to realize I'd love it.
The package was addressed to me. It came in the mail, in a plain brown box. The sender is listed as Professional Logistics Inc in Buffalo, NY (they have a LinkedIn page, but the website listed there is either down or inactive). It came via 2-day priority mail, with a USPS tracking number that indicates it did, in fact, originate in Buffalo.
Inside the box was this: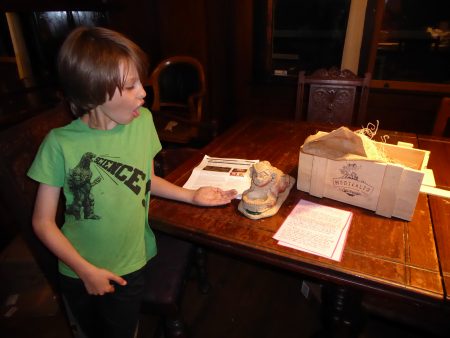 1. A wooden crate marked "Montealto Organic Fair Trade Coffee, Product of Guatemala." It's the kind of crate that's nailed shut on top. I figured Sam must've ordered the coffee on my Amazon account or something, so I left it on the kitchen counter until he got home. He claimed not to have ordered any coffee, but he opened it up for us.
2. Inside there was a package wrapped in burlap, a letter on pink "Super Kitty" stationary, and something that looked like a printout of an article on a Spanish-language news site. I started reading the letter, and immediately said "oh my god this is the COOLEST THING, Robin and Davy come here right now, you're gonna love it."
I do want to note that while it's written in a child-like, looping cursive script, the letter is in fact printed and not hand-written. This is what it says:
The government closed down the dig. That nosey reporter found out about the lost artifacts & put it in the newspaper. I don't know what we're going to do. My parents are still in Guatemala and I'm staying with Uncle Al in Toronto for now.

I was so scared when Customs asked me about the statue. I said it was just tourist stuff and they let me go. I guess they couldn't believe that a kid would be carrying a priceless artifact. I had to get it away from the dig, but I can't keep it. Someone is going to ask me about it eventually. So I'm sending it to you. Nobody knows about you here.

I believe Une now. I'm not sure if I can trust her, but I believe her.

She told me the statue is connected to the werejaguars' return, but didn't tell me how. I told her before that I'd help—so I did. I got the key to the equipment shed from Dad's backpack and unlocked it for her. At first I couldn't see her, but there was a jaguar at the edge of the rainforest. I could see the light flash off its eyes. It came right up to me and brushed past me into the shed. It stopped in front of this statue and I took it. I still can't believe I did that! But I don't think any of the so-called adults in my life are responsible enough to take care of it.

I know I can trust you.

P.S. Whoever told that reporter he saw me and a jaguar walking into the jungle was such a liar! Nobody was around and we were careful! And I didn't go into the jungle. I went straight back to my tent.
Robin started screaming halfway through as I read this to him, by the way. "Is this real!! Who sent this to us?? What's in the box???" I told him to take it out and he unwrapped a burlap bag containing the…well, I guess I'm gonna call it the jaguar idol, huh. You can see it in the picture (click for bigger version). It's really very well made. I think it's made of resin or whatever it is they use for those fake-stone garden ornaments, like birdbaths and buddhas and stuff.
You might be wondering what that green thing tucked into the little crevice under the werejaguar's chin is. It's this: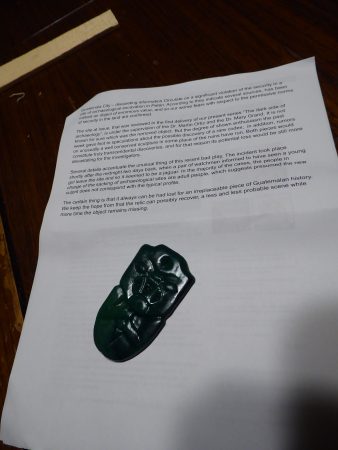 A pendant, plastic, but made to look like jade. Robin was ecstatic when we noticed the "hidden" pendant. He insisted on putting it on a string and he's wearing it right now. Davy claimed the jaguar idol for himself, so they're both happy.
3. The only other thing in the box was the "printout." Two stapled pages, the first one in Spanish, and the second page the same article translated into a kind of English meant to sound like it was produced by a non-native speaker. If you click on the picture of the pendant you'll get a version big enough that you can read the article, if you're curious.
Anyway, this whole thing is super awesome and whoever sent it to us—I'm so, so grateful! Time to do some web searching and see if I can uncover any more clues!
(UPDATE: Web searching has turned up The Mysterious Package Company!)